Here's a recent pic of the studio.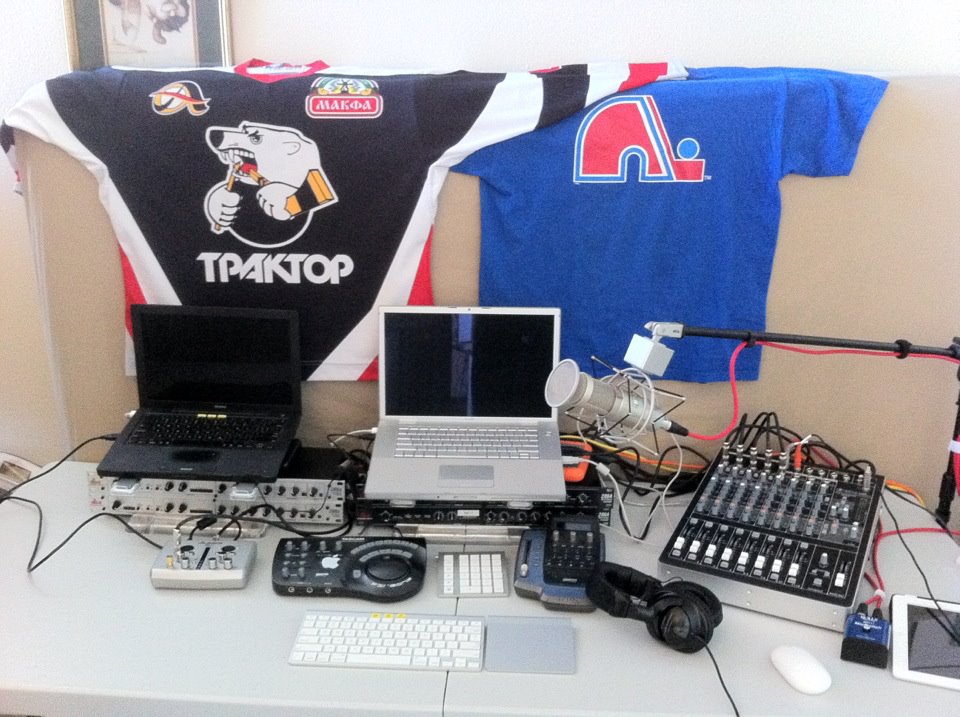 And here are some descriptive text placed over the stuff, so you can see what it is.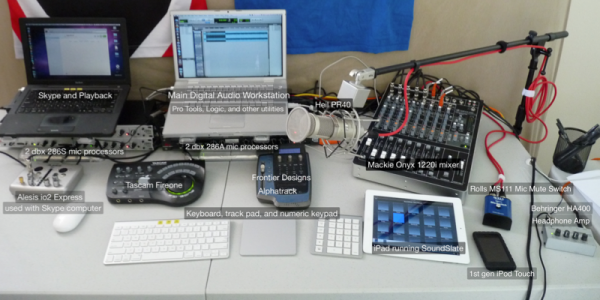 I take the audio for the podcast pretty seriously.  My philosophy is that if you don't want to listen to what I have to say, the quality of the audio should be no excuse.  There are a lot of podcasters with plenty to say, but with poor audio quality, and they lose audience for that simple, solvable reason.  After years as a sound tech, I would be hard pressed to get poor sounding gear.
That doesn't mean you have to go the route I went to get good audio.  This is just what I do.
Here is a list of gear that currently comprises Tapeleg Studios:
Heil PR40 Microphone – my favorite broadcast quality mic.  I like the high-end detail this mic provides.  Sounds more like a condensor mic with the qualities of a dynamic.
Rode Procaster – If you want a broadcast mic, but don't want to spend as much as the RE-20 or PR40, the Procaster is for you. It costs a little more than half the RE-20, and it sounds great.  If you want a shock mount, it costs quite a bit less than the PR40 of RE-20 shock mounts.
Electrovoice RE-20 – Another broadcast quality mic, as close to an industry standard as you will get.  This was my first broadcast mic, bought thanks to previous experience with it, and it's reputation.  It's a great mic, but costs more than some of the alternatives.
Note – I don't use them, but the other big broadcast mic is the Shure SM7B.  Another industry standard.  It just wasn't the right mic for me and my traveling need.
BSW RE27POP Pop Filters – These are made of metal, so I can clean them easily with an anti-bacterial wipe, which is great for the guests.  They clamp right on the mic, so wherever the mic goes, the filter goes as well.  It also promotes good mic technique.  If you don't have a pop filter of some kind, you are playing with fire.  Get one.
Popless pop filters – This is the pop filter on the RE20, but will be replaced with a metal REPOP one soon. This one is specific to the RE20 shock mount.
dbx 286a Microphone Processor – Very nice for making the voice sound tight and awesome. Can be overdone, but they sound great, for very little money.
Mackie Onyx 1220i Mixer – This is my audio interface, and also mixes a good headphone mix.  The firewire connection allows my computer to record each track individually, and I mix it later in Logic Pro.
Audio Technica ATHM40 Headphones (for the money, they sound great, and comfortable. I could wear them all day)
Logic Audio – Apple software for serious audio editing. Garageband is fine, but this is better. If you can't spring for Pro Tools but still want professional audio editing with lots of effects, this is for you.  I like it quite a bit.
Rolls MicMute and MicSwitch boxes – Hey, sometimes you have to cough, so a mic mute switch is handy to have around.  Most pro boxes cost twice as much.  There is no real reason I picked one over the other.  I wanted to try them both out.
OC White boom stand – Keeps the mic right where you want it, leaving desk space for your computer.  Hear one squeak at the beginning of episode 78 of The Avs Hockey Podcast.  This isn't a usual issue with these.
Presonus HP4 Headphone Amp – This feeds the headphones for myself and all guests.  I will be adding some individual volume control boxes for each guest later, as it's a pain for them to find their volume control quickly.  This also passes audio to the monitor speakers.
Mackie MR5mk2 speakers – I have to say, I'm not impressed with the sound of these. I would go with something else today, but for the money, they are serviceable.  I have a second set of consumer speakers to a/b with, which helps tell me what I'm really hearing.
Frontier AlphaTrack (retired due to damage) – I bought this to help control Logic Audio. Bells and whistles, mostly. I didn't wind up using it as much as I thought I would.
Rode NTG-1 shotgun mics – These are going to be used for field work and interviews.  You can hear them at work here.
Tascam DR-40 Recorder – For mobile recording.  Mostly in use with the NTG-1 shotgun mics.
Belkin TuneTalk  – Stereo mic for recording to ipod. Again, sounds really good for what it is. I carry this everywhere, and can record on the fly. You can hear it on the first two interviews on episode 21.5.  (now I mostly use my iPhone as is without an external mic for on the spot stuff.  For what it is, the mic is fantastic.  And when a BBC reporter uses one rather than a field kit, who am I to complain?)
Things I don't use as much anymore:
Presonus BlueTube DP (2 channel mic pre, cleaner for voice than the single channel, plus can power an interview mic) This has been replaced with two dbx 286a units, as listed above.
Samson C-com Opti compressor – This smooths out the sound, meaning I won't pop and distort as bad) This has also been replaced with the dbx286a units. It will still come in handy at some point, I'm sure. You can never have too many compressors lying around.
Tascam FireOne (firewire 2 channel interface with transport controls, allows me to hear my guest and monitor my audio)
Aside from that, I use tabletop folding stands, star-quad XLR cables (for better noise cancellation), a 15″ MacBook, and a few odds and ends.
I hope this helps.  Feel free to use the contact form if you have any questions.
Here is a screen capture of Episode 45 – Tweetcast.  There wasn't a whole lot to edit on this one.